Tax Advising
We have filed over 3,000 income tax returns and tens of thousands of other tax returns. We proudly maintain a spotless record of not one malpractice claim. We strive to ensure the highest level of communication with clients, facilitated by software provided free of charge.
All our services are completely certified.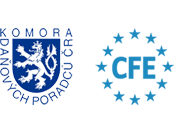 We meet with you to discuss your requirements. This can even be done from abroad.
If you only require a one-time tax consultation or tax return filing, we will see to your needs without delay.
We analyze your accounting and tax obligations to the government.
We propose possible tax saving solutions to reduce your tax burden.
We negotiate with you as to establishing a standardized business relationship to provide ongoing support to your financial department.

Being represented in tax matters is commonplace.
We offer comprehensive tax consulting to clients both in the Czech Republic and abroad. The optimization of our client's tax base, finding tax savings, and your resultant lower tax burden is our goal. Each of our clients can be confident that his or her tax matters have been handled properly and we back the accuracy of our calculations with a 100% guarantee.
Take advantage of our tax consulting for foreigners and tax return filing services for foreign citizens and legal entities.
Are you currently doing your taxes by yourself and prefer to stay that way? We are also at your disposal for consultations on specific problems that are commonly encountered. How to calculate annual income tax and road tax? How to optimize your situation and get the maximum savings from your return? How to fill out forms for the tax office? For solutions to these problems and many more, you can always consult our experts.
Don't let your business get bogged down in the bureaucracy. Let our experts give you peace of mind.
For more information feel free to visit our Lexicon or Help Center.
an Example of our TAX CONSULTING PRICES
Tax advising for regular customers

Tax advising for regular customers from only

FILING OF A PERSONAL INCOME TAX RETURN

Processing a person's income tax return (DPPO) from only

FILING OF A corporate INCOME TAX RETURN

Processing a company's income tax return (DPPO) from only

PROCESSING OTHER TAX RETURNS

Preparing Road Tax, Property Tax, VAT or other returns from only

COMPLETE ACCOUNTING AND PAYROLL SERVICE FOR SMALL AND MEDIUM SIZED COMPANIES .

A small sized company with 10 employees and 300 accounting entries monthly, registered to pay VAT quarterly and including representation before government bodies and continual supervision by tax advisors.
Interested in our services? Contact us.
Quick Price Quotation or Contact Form
Would you like to know how much our services will cost right away? Please fill out the form below and you'll receive a preliminary price quotation in your email in a matter of seconds.
COMPREHENSIVE TAX CONSULTING
Our services are 100% guaranteed
Income tax returns
VAT returns
Road tax returns
Real Estate Transfer Tax returns
Inheritance Tax returns
Gift Tax returns
All other reporting and filings required by law.
STILL NOT CONVINCED?
We are not a one accountant firm. We provide comprehensive services for business people from start-up and its first ledger entries to payroll and HR services and legal and tax advice.

We have ample experience dealing with international tax regimes and agreements addressing double taxation.

In addition to saving money on your taxes, you also save on the costs involved in training and paying for support materials to staff.
Our work is 100% guaranteed and backed by a quality insurance policy and our strong capital reserves.
Distance is no barrier. All documents, processing and consultations can be done remotely using electronic means such as email.
Since 1995 we have been helping clients from all over the world. We blend a personal approach to solve your specific needs with the cost saving efficiency of modern IT systems. Plus you needn't worry about language obstacles.


With BELL, you can get what you need done in English. 
You can rely on us
We can also offer you additional services: